With the christmas holiday coming and the holiday season, I thought I would write a lighter side from the normal stock investing that we do. I would like to write about the benefits we get as stock investors. We can use the money for experiences that would usually be a premium to that we can enjoy. Today I am enjoying a very nice first class flight form Japan Airlines. I have had an excellent experience so far and I'd like to write about it in more detail.
From the moment I went to check-in the flight, the experience has been impeccable. The check-in had no line at all for any of the classes (first, business, or coach) and they do have a separate line for each. LAX was very light during the weekday and I was able to pass through security quick. I had an okay experience at the oneWorld lounge. The breakfast was missing bacon and another protein but I was able to enjoy some eggs. They also had a nice barista complimentary to the lounge and I was able to enjoy a nice cappucino while waiting for my flight.
At the time of my flight, I was able to breeze through check-in as the Boeing 777-300 only has 8 first class seats. There was no line and there was even a lady waiting at the terminal for first class passengers to make their experience better. Once I got on board, I was treated to the first class experience and I even enjoyed a nice champagne as they waited for the other passengers to board.
The first class suite seats are a first for me. It is great to have your own private suite complete with outlets, bigger TVs for digital entertainment, noise cancelling headphones, and full reclining flat bed seats. The only thing lacking is a separate door to make the experience fully private but I cannot really say a negative as this would be my first 'first-class' experience on the plane.
Once the flight was in the air, they started the meal. I got the japanese style meal and it was delicious.It was an eight-course meal where each course was served with a custom and detailed plating and high quality ingredients. I don't want to go into very detailed meals of each course but I can say that the seafood was delicious. If you want a western style experience, they also have rib eye steak but it is corn-fed so I wouldn't say you get as much value.
The stewardesses were very generous and allowed me to sample many different red wines, white wines, green tea, and coffee. I particularly enjoyed their premium sake that the stewardess said I would enjoy and she was correct! It had a nice subtle dryness and a nice light sweetness that made it very delicious and enjoyable with the meal.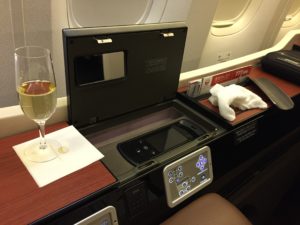 Their lobster course was excellent. They made it really easy to take the lobster off the shell and surprisngly really delicious and still fresh while being served on the plane.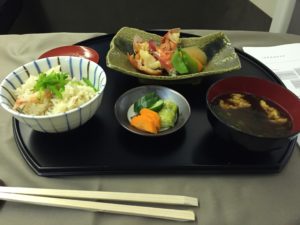 They also had a very delicious "Sashimi" style shrimp and flounder plate that was the best part of the course. Very fresh still and very delicious.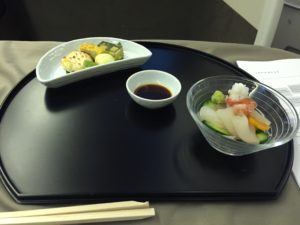 I wasn't too fond of the rice with crabmeat but most people would enjoy it still.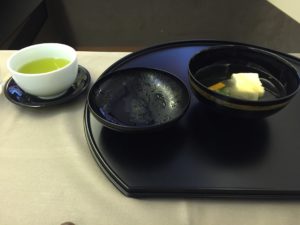 The miso soup was different than the normal powder miso you get at the restaurant. It had a radish and tofu and it tasted really homemade. It wasn't too salty either.
If you enjoy tea, you will particularly like Japan Airlines for their green tea and black tea. Both are very high quality and you can still see the powder from the teas as you drink. I had a couple of each and they even gave me more when I finished the tea. Their coffee was a bit bitter and they probably could use a higher quality blend with a better creamer.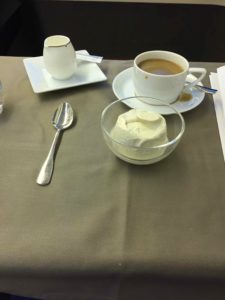 The coffee was better used with their delicious ice cream. The ice cream was very cold and still frozen so it made perfect sense to make it a abogada by smothering the ice cream in warm coffee.
Once the meal is completed, they get everyone ready to sleep even though it is considered 3PM in Pacific time. It is late in the evening in Japan and it is a good start to getting rid of Jet Lag. They have a nice bedding setup for you. They will put on a nice mattress padding with either soft or hard depending on your preference. They also provide you a comforter and a sleeping pillow to sleep. This is a different pillow than the back pillow that you get when you board.
You are also given comfy pajamas to enjoy your flight. They will take your clothes and store it in a locker (I presume). Their bathroom is complete with toothbrushes, mouthwash, and some lotions for you to use. They also give you a nice travel bag complete with sleepy goods, dental goods, and lotion.
For those that don't want to sleep, you can enjoy the in-flight entertainment with the latest movies. They also have music and games. All entertainment is scripted in japanese and I needed the help of the flight attendant to choose my movies but they do have some recent english movies that make it easy to watch.
Overall, you will have a great time boarding with Japan Airlines. I would like to continue venturing other first class services but I'll have to do well with investments before venturing in too many. In the meantime, you must continue to invest for the long-term in strong companies. As for the companies that I mentioned before, you will continue to do well with holding AIG for long-term. I recommend it and I believe it will be a nice winner for many years. For a more riskier play, I suggest Ford (F) as the stock is still low and there is a lot of potential for it to move bullishly for 2015 and 2016. They have a great line-up of new cars and a new Ford F-150 that is all aluminum that should do well going forward.